Dum Laga Ke Haisha is a brilliantly observed portrait of the burden of aspirational manhood innumerable small-town men carry all their lives, headlined by a heroine, who is completely unapologetic about her weight. It is arguably Yash Raj's best romantic comedy in recent years.
There's a scene in Sharat Katariya's Dum Laga Ke Haisha where an elated and overweight Sandhya Verma (an impressive Bhumi Pednekar) dances with pure abandon minutes before getting married to the distraught Prem Prakash Tiwari (Ayushmann Khurrana). The setting is quietly comic; a teeming community centre in Haridwar where Sandhya and Prem are one of the many couples whose marriage is getting officiated that day. Just as her in-laws arrive at the venue, Sandhya joins the other brides-to-be and gyrates deliriously to the music: Enjoying herself and acutely unconscious of her body, even as Prem, his friends, and her in-laws stare at her in horror.
For Sandhya, her weight poses no great constraints. But to onlookers, this autonomy over her body is the reason for their glaring embarrassment. They look away disapprovingly, but the damage is done.
In a way, this precious little scene sets the tone for what Katariya intends to achieve with Dum Laga Ke Haisha. Like this scene, what made the film revolutionary wasn't just that it starred an overweight actor essaying its overweight heroine (or in film parlance: a "brave" film). It was the fact that for the first time, a young heroine completely refused to treat it as an inadequacy (unlike in Shaandar).
In doing so, Dum Laga Ke Haisha sneakily shed a light on the frustrations and resentments that the weight of aspirational manhood inflicts on innumerable small-town men across the country. Couple that with Katariya's astute writing which brings alive the '90s small-town flavour – replete with Kumar Sanu's trademark "Hey hey", mohalla politics, abundance of dusty cassettes, and Limca being dispensed as a soother for an upset stomach – and you have Yash Raj Films' strongest, and arguably its best romantic comedy until date. With Dum Laga Ke Haisha, Katariya managed the impossible: paying a nostalgia-induced homage to everything that made the '90s what they were without an iota of irony.
Dum Laga Ke Haisha sneakily shed a light on the frustrations and resentments that the weight of aspirational manhood inflicts on innumerable small-town men across the country.

Image credit: Yash Raj Films
The year is 1995, and the film's lead Prem Prakash Tiwari, nicknamed Lapoo, is a 25-year-old loserish man-child who spends his days listening to Kumar Sanu's melodious ode to love and getting bullied by his waspish father. Prem, who has failed to clear his Class 10 exams twice, and is forced to run a small cassette shop, also devotes the better part of his day at a local RSS shakha in a bid to retain a semblance of masculinity. In fact, Katariya's quiet mockery of the shakha culture where overgrown men heap eloquence on the bravery of Bhagat Singh, Bose, and Vajpayee in khaki knickers, while being juvenile cowards in their personal lives, is a treat to watch.
Prem's emasculation – whether it is his father treating him like a wayward child and leaving him twenty rupees as pocket money or his ignoble illiteracy – hits a crescendo when his family forcefully marries him off to a fat girl. He vehemently protests the very idea, drowning out his family's pleas to think of the alliance as a financial trade-off. Sandhya is educated, on her way to becoming a teacher, and is in a position to revive the family's income, they tell him. And, after all, what is wrong with her? But, Prem is unable to digest the practicality of the alliance because it comes at the cost of his own self-worth. For him, marrying an ugly, fat girl will be the last straw, perennially reinstating his status as an utter failure.
Prem expresses his resentment in generous doses. He discusses his unsatisfying sex life with his shakha friends (a priceless iteration of the boys' club) and even compares sleeping with her to a "living hell". To hold on to a shred of aspirational masculinity, Prem has to consistently mistreat her.
It takes a self-aware and unapologetic Sandhya to teach Prem that he can't achieve the mantle of manhood if he is unable to see beyond her weight. Yet, even when the nagging awareness that love could be out of her reach envelops her, she refuses to be burdened by her size. Despite her husband's loserish reputation, and his misbehaviour, she persists, trying to seduce him, understand him, and even love him. For, she, unlike him, is willing to look beyond.
What makes Sandhya all the more affecting is the fact that Bhumi Pednekar doesn't just play the character, but is indeed the character. Likewise, Ayushmann Khurrana – now the Bollywood poster boy for smashing toxic masculinity – evokes the vulnerability, misplaced rage, and the surprising entitlement that grasps numerous men in their relationships with women.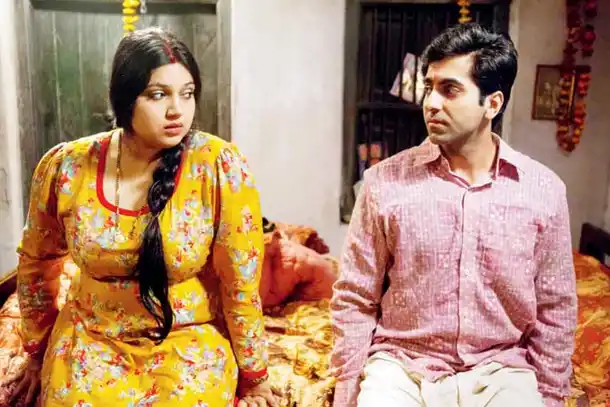 It takes a self-aware and unapologetic Sandhya to teach Prem that he can't achieve the mantle of manhood if he is unable to see beyond her weight

Image credit: Yash Raj Films
But the real reason Dum Laga Ke Haisha is such a surprising film is because it comes from a studio that has come to paint a roseate picture of romance, the non-achievement of which upsets its hero so much. It goes against the grain of every template that Yash Raj has set up. It rails against the thin-is-beautiful heroine stereotype it has consistently worked hard to create. In film after film, whether it was Vaani Kapoor in Befikre, Aishwarya Rai Bachchan in Dhoom 3, or Rani Mukherjee in Hum Tum, the studio has peddled this narrow perception of beauty. It also eschews Yash Raj's studio perception of what a "small-town" ought to look like (a vision that was so off-putting in Rab Ne Bana Di Jodi) and actually imbibes the flavour of Haridwar in the '90s.
Come to think of it, I'd have liked Dum Laga Ke Haisha even if it just stopped at disseminating the lesson that an overweight woman doesn't need to lose weight to be attractive or worthy of love. But, Katariya guarantees that we fall in love with the film by extending it to the climax: When Prem succeeds in carrying Sandhya in the "Dum Laga Ke" contest, it becomes a brilliant metaphor of him carrying the burden of entitlement, before realising it's imperative that he sheds it.
It's a wholesome memo. And we could do with dozens more of them.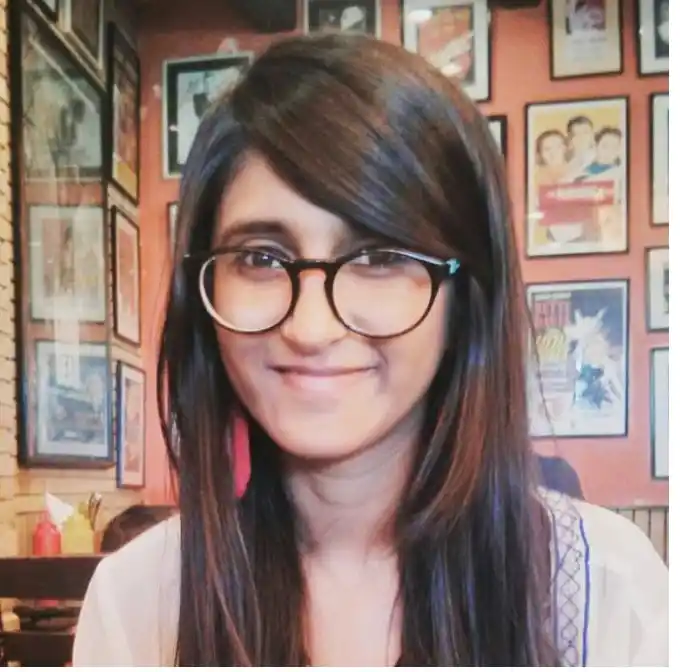 When not obsessing over TV shows, planning unaffordable vacations, or stuffing her face with french fries, Poulomi likes believing that some day her sense of humour will be darker than her under-eye circles.