Dil Bechara is by no means a perfect film but it is not one without feeling, which makes it that much easier to like. The earnestness that defines Dil Bechara also shaped 34-year-old Rajput's decade-old career. It's a gentle goodbye of a movie.
The first time we see Sushant Singh Rajput in Mukesh Chhabra's Dil Bechara, an adaptation of John Green's 2012 bestseller The Fault in our Stars, the late actor is making a fool of himself for the viewer's amusement. When Kizie (Sanjana Sanghi), the film's cancer-afflicted heroine, stumbles upon him in their college campus, Rajput's Manny is busy doing an exaggerated dance rehearsal: he gives his hips a shake, raises his eyebrows for dramatic effect, and wears a cocksure grin on his face, indulging in a silliness that is more comical than heroic.
The actual "introduction" replete with a musical number that has him dancing on stage – shot in a single take no less – comes a few minutes later. It's as charming as a Hindi movie hero introduction can get but it's the former that stayed with me throughout Dil Bechara, a moment that seemed to characterise a trademark Rajput quality: uncompromising sincerity. If in the latter scene, Rajput plays the hero, then it's the former where he shows you what it takes to be an actor who can sell the idiosyncrasies of a hero.
This earnestness defines Dil Bechara in the same way that it shaped 34-year-old Rajput's decade-old career. Tragedy is writ large upon the film: It's only been over a month since Rajput's unfortunate death, a loss that clouds the viewing of Dil Bechara. That the source material for the film – one of the sappiest Young Adult romance novels – is an inevitable tearjerker, exacerbates matters. There's also AR Rahman's pleasing, tender score adding insult to injury. That's not to say that a drama centred on two young cancer patients in love who are strapped for time wasn't always going to be a rough affair.
Rajput and Sanghi share an easy chemistry and balance each other's energies out in ways that are immensely watchable.
A film loaded with the sincerity Sushant exuded
On its part, Dil Bechara is by no means a perfect film but it is not one without feeling, which makes it that much easier to like. Rajput, meant to play a 23-year-old, looks nothing like someone in their twenties and yet does such a fine job of believing that he is actually 10 years younger that by the end of the film, you're inclined to buy it too. The rest of Dil Bechara fares along on a similar brand of conviction, one that slowly and steadily, outsizes its imperfections.
Adapted by Shashank Khaitan and Suprotim Sengupta, Dil Bechara is a watered-down version of the original, giving a blatant makeover to its source material, retaining just about the essence of the premise. The screenplay often lacks depth: Green's acerbic humour or even the profound existentialism that loomed over an ultimately doomed romance is missing here. The film's lean runtime, clocking in under 120 minutes, also means that the narrative feels rushed, leaving no spare time for backstories. But the writers choosing to ditch the coming-of-age route to focus more on turning the material into an unlikely love-story does work in their favour.
Essentially, Dil Bechara relies on how invested it can make the audience in the coupling of Kizie Basu, a thyroid cancer patient compelled to lug an oxygen tank around and Immanuel Rajkumar Junior (Rajput) whose bout of osteosarcoma left him with an amputated leg. Despite the insufficient characterisations of its leads, Dil Bechara earns our interest primarily because Kizzie and Manny are incredibly affable. Rajput and Sanghi share an easy chemistry and balance each other's energies out in ways that are immensely watchable.
Dil Bechara is set in Jamshedpur, although the makers never give a worthy reason for locating it in that specific small town. The Bengali family at the centre on the other hand, is nicely fleshed out (Sengupta achieved something similar in Akshay Roy's Meri Pyaari Bindu): Swastika Mukherjee and Saswata Chatterjee play perfect foil as Kizie's concerned parents. Chatterjee in particular, is capable of breaking hearts with mere glimpses and it's exciting to see him in a Hindi film once again after his winsome turn in Anurag Basu's Jagga Jasoos.
Dil Bechara is by no means a perfect film but it is not one without feeling.
An affecting goodbye
The alterations that Khaitan and Sengupta make to the script are clever decisions. For instance, Manny is made out to be more ebullient (he's a Rajinikanth fan) than ironic, which complements the infectious energy that Rajput brings to the film. Manny is a persistent lover but Rajput doesn't play him the usual way. He dials down the manliness and goes hard on the charm, effectively explaining why someone as reserved as Kizie, who is initially indifferent to Manny's affections, would fall for him. Another addition is a subplot that sees Manny's cancer-afflicted sidekick JP (the reliable Sahil Vaid) shooting a low-budget Bhojpuri film with Kizie and Manny before he loses his eyesight. It's a silly excuse for the film to indulge in wide-eyed filmy nostalgia but Rajput and Sanghi have a lot of fun with it.
Still, the biggest deviation is that the subplot of hunting down an obscure author in Amsterdam gives way to looking for Abhimanyu Veer, (Saif Ali Khan in possibly the year's most bizarrely satisfying cameo), a singer past his prime in Paris. It's a shame that Chhabra sees it only as an excuse for his film to make a trip to the Eiffel Tower and not necessarily explore how Kizie and Manny's dynamics shift when they're left on their own. In fact, the director's conservative approach to physical intimacy is baffling given that Dil Bechara follows a young couple in love, who happen to be strapped for time. Yet they also go through an entire movie without as much as a kiss.
In that sense, Dil Bechara is not the most complicated or ambitious film but it does meet its own expectations. Anyone familiar with the material is already aware of the tragedy that pans out in the film, which given the circumstance, is a brutal blurring of the lines between reality and fiction. The film's ending then, which goes hard on the transformative power that some people can end up having on our lives, can seem both opportunistic and moving. To me, it felt a bit of both but also apt – a celebration of life as well as of the power of cinema to offer gentle goodbyes.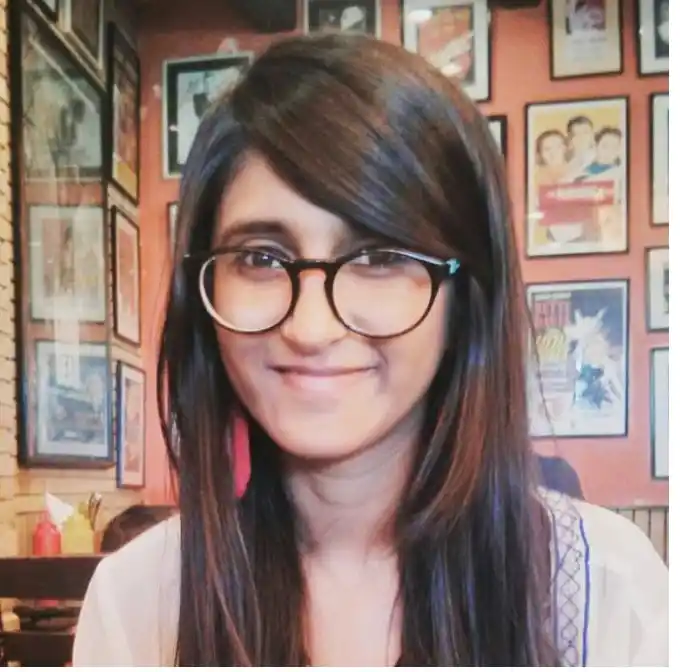 When not obsessing over TV shows, planning unaffordable vacations, or stuffing her face with french fries, Poulomi likes believing that some day her sense of humour will be darker than her under-eye circles.