Before the age of socially conscious filmmaking dawned on us, Shaad Ali's Bunty Aur Babli, that completes 13 years this week, reminded Bollywood that it's possible to make an entire film on just one word: fun.
Back in 2005, Amitabh Bachchan collaborated with his son, Abhishek Bachchan, and the latter's rumoured flame at the time, Rani Mukherji, on two vastly different but highly successful films. There was Ram Gopal Varma's stirring Sarkar, where Big B essayed a fictionalised version of Shiv Sena chief Bal Thackeray and Abhishek played his upright son. And, then there was Sanjay Leela Bhansali's evocative Black, where he played a mentor to a blind-and-deaf Rani Mukherji.
Later that year, all three of them came together for the casting coup of the decade: Shaad Ali's Bunty Aur Babli. Not only was it the first reel-life pairing of the Bachchan men, (Sarkar had yet to release), but was also padded up with an unforgettable item number by a saucy Aishwarya Rai.
It was this ability to take a gimmick – like having Amitabh and Abhishek in the same frame or item number – and devising a desi Bonnie and Clyde crime caper that defined Shaad Ali's second directorial outing. Bunty Aur Babli, which completes 13 years this week, should be remembered for a lot of things: Shankar-Ehsaan-Loy's deliciously loop-worthy soundtrack, Amitabh Bachchan having the most fun in a supporting role in years, Shaad Ali rekindling Rani Mukherji's vivacity after reinvigorating it in Saathiya, and Aki Narula affording it the most dramatic, outlandish fashion.
But, what it should be lauded for – despite its nearly three-hour-long-runtime – is how shameless it was in being a tribute to fluffy mainstream masala filmmaking. With an ensemble cast that boasted of stalwarts like Prem Chopra, Puneet Issar, Raj Babbar, Sanjay Mishra, and Ranjeet, Bunty Aur Babli's infectious charm lay in being just the right amount of OTT. In fact, the film might have been the last instance of a successful tribute to the masala genre before it got hijacked by Salman Khan and lot, and was reduced to nonsensical garishness.
Bunty Aur Babli also offers a thoughtful commentary on the dichotomy of India – where life in the small towns is alien to the mechanics of the big cities
In the film, Abhishek plays Rakesh Trivedi, a wide-eyed resident of small-town Fursatganj (a place where people have "too much free time") who is adamant to defeat the small-town mentality of his parents, relatives, and acquaintances to emerge as the next Tata or Birla. So, when his ticket-collector father (Raj Babbar in fine form) insists he go for a railways interview to settle for the same nine-to-five life replete with monotonous drudgery as him, Rakesh flees.
Then there's Rani's Vimmi Saluja, who perfects the small-town iteration of Kareena Kapoor's Poo from K3G. Sample her opening line: "Agar apne sundarta ki pooja karna pagalpan hai, toh haan main pagal hoon." Like any other girl growing up with a healthy dose of Bollywood aspirations, Vimmi too dreams of being a part of the circus. She wants to go from being the person who wears cheap knockoffs inspired by her favourite actresses to being the celebrity whose clothes get replicated by the umpteen tailoring shops across India. Her parents on the other hand, thwart her dreams of becoming Miss India by demanding she become Mrs to a head clerk in Pankhinagar. Naturally, she responds by fleeing.
A chance encounter in a bathroom at a dingy train station, leads to their identities getting a makeover as the conmen Bunty Aur Babli. If you pay enough attention, Bunty Aur Babli also turns into a vigilante justice film at some level. Its leads are, after all, exacting revenge not from random people, but from a society that didn't think enough of their dreams.
In a way, Bunty Aur Babli was also one of the first few mainstream films that articulated the growing aspirations, claustrophobia, and frustrations that countless youths from small towns internalise. Unlike their parents, these youngsters want to take advantage of their country's socioeconomic transformations and don't want to believe that anything is out of their reach. Most importantly, the film also offers a thoughtful commentary on the dichotomy of India – where life in the small towns is alien to the mechanics of the big cities.  Come to think of it, it's hard not to think of Bunty and Babli as the early predecessors of Shruti and Bittoo from Band Baaja Baaraat.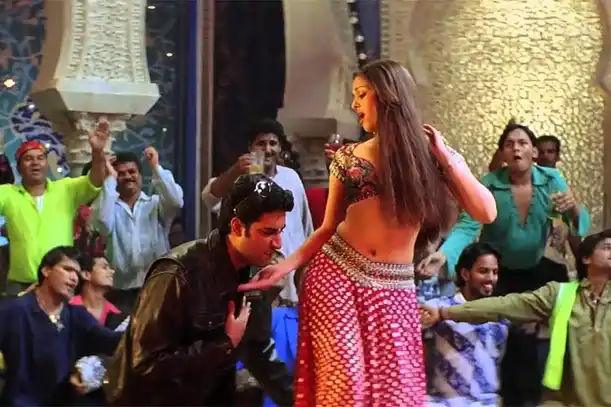 Not only was Bunty Aur Babli the first reel-life pairing of the Bachchan men, but was also padded up with an unforgettable item number by a saucy Aishwarya Rai.

Image credit: Yash Raj Films
After christening themselves Bunty Aur Babli, the duo wreak havoc with their scams across the country. Their first (and coolest) conspiracy involves tricking an auburn-wigged investor played by Sanjay Mishra. The funniest part of the sequence is when Babli dances with him to "Ramba ho", while Bunty prepares to make away with the cash. The hilarity of the scene comes from how clueless Mishra is, when left dancing by Babli, on the pretext of going to the bathroom and how easily she nails the charming seductress bit.
They get away with almost every scam, irrespective of how illogical or convenient it might seem. The best fraud (hilarious to this day) is where the duo, acting as Tourism Minister Phoolsakhiji and her clerk give the Taj Mahal on a five-year-lease to the seventh richest man in the world (whose fiance wants to get married at the monument) for a whopping 250 million dollars. This happens amidst a protest march that reads "Main meri biwi se pareshaan hoon" and where protesters have no idea what their demands are.
It helps that Abhishek and Rani share the kind of electric chemistry that lights up the screen and laces the film's unrealistic loopholes with irreverent fun. Even Bachchan's dizzyingly in-your-face portrayal of the multi-accented (there's a smattering of Haryanvi, Bihari, and Allahabadi) cop Dashrath Singh, who is razor-focused in his intention to nab them single-handedly lends the proceedings an energetic turn. Take Big B's introduction scene for instance; he lights a beedi with a counterfeit note that's been set on fire. It's as nonsensical as it is apt. The father-son meeting may happen only two hours into the film, but it's easily its best part — the bit where Amitabh passionately reveals his unrequited love affair is a complete hoot, as is him threatening to run over someone unless they provide him with information. Plus, who can forget his cries of "Madam, I'm your only Adam!"? After all, it became the pickup line of countless lovelorn youths.
The film's seemingly pat ending that comes with its own plot twist is the biggest evidence of how Bunty Aur Babli has no intention of straying away from its obvious masala roots. Before the age of socially conscious filmmaking dawned on us, it was Bunty Aur Babli, the second-highest grossing film of 2005 that reminded Bollywood that an entire film can be made on just one word: fun.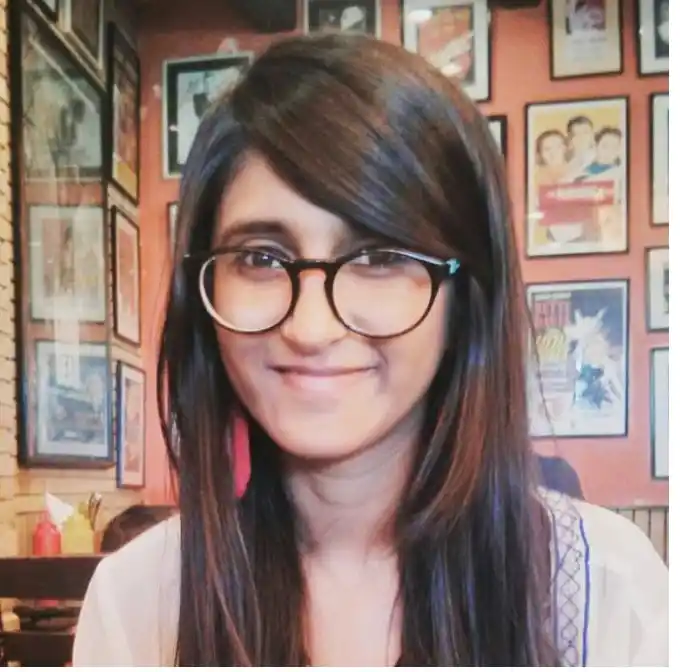 When not obsessing over TV shows, planning unaffordable vacations, or stuffing her face with french fries, Poulomi likes believing that some day her sense of humour will be darker than her under-eye circles.