Once a year, Bollywood's best and brightest stars attend a feast for the ages. What went down at this year's party, where Shah Rukh was absent, Sallu was present, and Bobby Deol made a return to action?
Baba Siddique's annual iftar party is the Bollywood equivalent of barging into your Muslim friends' home to gorge on unlimited biryani once a year on Eid, and then ignoring him for the rest.  
This year, the event, which jostles with AB's Holi party for the title of Douchebag Social Event of the Year, lacked the one PR twist that everyone and their grandmother keeps their eyes peeled for: the annual Khan-Khan hugathon between SRK and Sallu. For those who don't know it, every year the Khan-Khan bhai-bhai saga plays out like a KJo drama, assuring everyone watching that all is indeed well in the Khan Caliphate we call Bollywood. Before your gossip sense starts tingling, and the filmy fanatic within you prepares for the apocalypse that is a Clash of the Khans, araam your areolas. Shah Rukh missed it because he was off shooting in America.
Even without the SRK twist, Sallu on his own is enough of a show-stopper. Adding Sallu to the guestlist of any party, hunting, iftar, or otherwise, guarantees it will be a hit, even if Sallu runs off leaving his driver to finish his last drink midway through a bash. This party was a little different for Sallu however, because he was haunted by the ghosts of girlfriends past. Katrina Kaif and Jacqueline Fernandez hovered around all night ensuring his current flame Iulia took notice of her impending fate. You've got to hand it to Sallu though for keeping his reserve at a party with two of his exes and his current paramour. But those women know better than to bring the drama because Sallu is actually Thanos in disguise; chutki mein career khatam. Remember Vivek Oberoi? That's okay, no one does.
Other than Sallu, the party mainly saw stars who are rapidly approaching their "cast by" date posing for shutterbugs, like Suniel Shetty, who is  no longer shooting bad guys while flying through the air wearing a mundu, and Tusshar Kapoor, who's probably still recovering from the speech impediment multiple installments of Golmaal have given him. Riteish Deshmukh was there too, and he chose to mostly pose for pictures with millionhair man Anil Kapoor because everyone at the party had a collective case of temporary amnesia and remembered him as that guy from that movie they love but couldn't quite remember his name.
The party also had a slew of B-team actors, producers, singers, and television celebs, hoping they could get a pitch in sideways between bites of kebabs. Unfortunately for them, and thanks to copious cocaine use, the hippocampi of Bollywood's movers and shakers is past the point of repair. Any conversation that ends with, "Concept accha hai, call my secretary," at such parties probably means, "The disco sugar's making me anxious, so I'm telling you what you want to hear so you leave me alone."
Bollywood's new crop of flashy fuckboi's led by Ranveer Singh were conspicuous in their absence because an iftar meal is the bullet to their diet's black buck (last Bhai dig, I promise). Maybe they had their own kiddie version of the iftar party, separate from the adult iftar party, devoid of all the politics and backstabbing fuckery that is Bollywood.
Last (and also the least) in the name-dropping order was Bollywood's renaissance man – actor, producer, DJ, and Bhai's partner in on-screen exhibitionism, Bobby Deol. Though his comeback game is on point with Race 3, Bobby's been out of the loop far too long to be any fun at parties. In Bobbyland, "Duniya Haseenon Ka Mela" ranks higher than "Baby Ko Bass Pasand Hai" or whatever earfuck of a song Bollywood's band of hacky producers can conjure up. His repeated requests for the DJ to play the Gupt theme song while diners tucked into gulab jamun probably proved to be his undoing, ending in his premature ejection from the party, which is why there's just one picture of the man, looking less than happy. Or maybe it's gastric distress brought on by one kebab too many, which resulted in some "yahan wahan dhuaan dhuaan" which everyone thought was uncle Shatrughan.
Hopefully next year Baba Siddique lets Bollywood bond over biryani in a subtler, more private setting, without making such a huge fuss about it, which means it  won't trend on Google and struggling trend jockeys (writers) everywhere won't be saddled with the task of waxing eloquent about the proceedings, so that they can pursue more fruitful tasks such as procrastinating or attending an iftar themselves.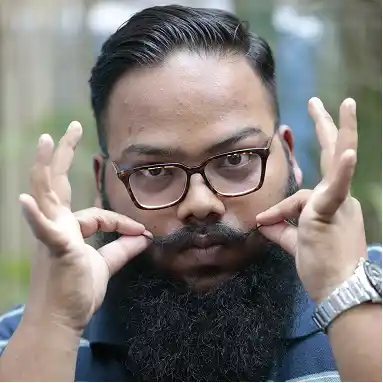 Damian loves playing videogames. If all the bounties he collected slaying zombies were tangible, he wouldn't need to write such bios. Seriously though, Damian used to be a cook who wrote, now he's just a writer who cooks.