Baazigar introduced us to a new weapon of mass destruction, the power of attorney. And Shah Rukh Khan's Ajay Sharma taught us that if your contact lens game is on point, you can conquer the world.
Twenty-five years ago, when a blood-soaked Ajay Sharma (Shah Rukh Khan) laughed hysterically before impaling Madan Chopra (Dilip Tahil) seekh kebab-style, the anti-hero was born. Today Baazigar is a cult classic, mostly because of its plot, which was wickedly bloody for the Nineties. If you haven't seen it (wtf), it follows a resentful Ajay who avenges a treacherous Madan Chopra for usurping his family business by killing his daughter Seema, her friends, and then him.
Baazigar was a film way ahead of its time and there's more to it than SRK's immortal "Kabhi kabhi jeetne ke liye kuch haarna bhi padta hai … aur haar kar jeetne waale ko baazigar kehte hai" dialogue. Ajay Sharma and Madan Chopra & Co are as relevant to us today as they were in 1993. Here are some legit life lessons from Baazigar's timeless characters.  
Inspector Karan
Back in 1993, if someone got friendzoned, chances are they were called the Inspector Karan of the gang. Played excellently by Siddharth Ray, Inspector Karan was the human equivalent of a One-Side Lover meme. Every time he sees Priya (Kajol), his face turns into the heart-eyes emoji. He's a fine example for jilted lovers everywhere on how to maturely deal with watching your crush get engaged to another guy: sing Anu Malik songs and go into flashback mode. But be warned, while you're sulking over your unfulfilled romance, someone might just kill three people before your eyes.
Madan Chopra
Maddy Chops likes his enemies like he likes his kebabs – impaled and raging hot. Madan was a total pig, who popularised douchey concepts like enforcing power of attorney, swiveling chairs, and growing pornstaches. A true embodiment of '90s sexism, he eventually chose to give away his power of attorney to his son-in-law instead of his daughters, because eww girlzzz. An important lesson to learn from Daddy Mads is that if you're going to ask your boss for your old job back, then do it in the middle of a Holi celebration, to capitalise on that festive spirit. (And be sure to bring your kids with you to gain that extra zing of sympathy.) Also, don't forget to pretty much destroy the man's life for being stupid enough to trust your cold-blooded self.
When life gives you hot water and salt, just pretend it's tea and laugh hysterically.
Priya and Seema Chopra
In a movie rife with murderers, frauds, and thieves, the Chopra sisters still manage to come across as the two most self-centered characters. Seema chose to get married in a court of law without telling anyone in her family, or even making them meet the guy. Thank you Seema, for teaching us to only swipe right on people with verified profiles. Seema's little sister Priya is an entitled brat and makes blatant demands like sports cars and throws a hissy fit at the prospect of her dearest daddy losing a race. Not to mention, she treats her house help like garbage, often carrying a hunter to terrorise them. Priya taught us that money can't buy class.
Ajay Sharma, urf Vicky Malhotra
Say what you will about Ajay, but he knew how to make a girl fall for him. Even if it was from a rooftop. While the '90s were a wild time in terms of fashion, Ajay taught us that if your contact lens game is on point, you can conquer the world. Or at least your father-in-law's company. Even though Vicky's most poignant lesson remains, "Kuch haar ke jeetne wale ko Baazigar kehte hai," his stance in wiggling away the helmet sweat from his furry mop like a Pomeranian is contender for a close second.
Babulal
Not many know this, but Babulal is a distant cousin of Manilal from Awara Paagal Deewana. He was into laughter therapy before Munnabhai MBBS made it cool and his persistent attempts at decoding cases are comparable to Inspector Karan. Mainly because both of them have never actually solved one. His most valuable life lesson is directed to every dorm room's broke stoner gang: When life gives you hot water and salt, just pretend it's tea and laugh hysterically.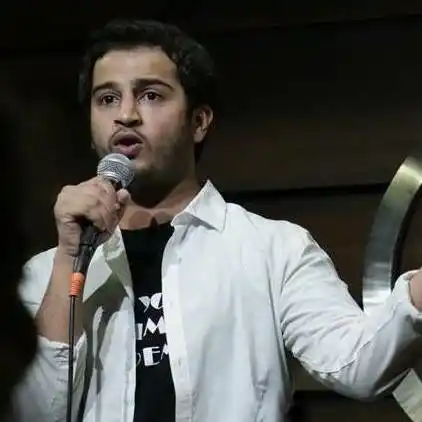 Masking anxiety with humour. Living with his dog, cat, and mediocrity. Creating content aur life se kaafi discontent. Tweeting as @juvenile_jack.