An Indian student is more like Chatur Ramalingam and Raju Rastogi. In school, most of us gave in to rote learning, and in college like Raju we had our insecurities. It's precisely why 10 years later, I still cannot relate to the exceptional Rancho.
Sunday, January 3, 2010. To borrow a line by Chatur Ramalingam (Omi Vaidya) in 3 Idiots, "Yeh date main nahin bhulungi". Caving into the week-long pressure by friends, relatives, and colleagues, I finally bought tickets for Rajkumar Hirani's 3 Idiots, the Aamir Khan-led Christmas present of 2009. The 10 am show at Cinemax Sion (now PVR) was surprisingly packed. "What was the big deal?" I wondered. Three hours later, I had my answer.
The film begins with two almost 30-year-olds, Farhan Qureshi (R Madhavan) and Raju Rastogi (Sharman Joshi) who set out on a quest for their missing friend, Ranchoddas Chanchad, aka Rancho (Aamir Khan). Accompanying them is Chatur, the trio's arch rival in college, who wants to settle a long-pending score with Rancho. Peppering the film are flashbacks of the protagonists from their days as students at the Imperial College of Engineering. Three hours in, you realise 3 Idiots is not your regular Bollywood college drama. It's an entertaining, emotional roller coaster that exposes India's flawed education system.
I've seen the film multiple times in the decade since its release. The general consensus is that Raju Rastogi and Chatur Ramalingam are the losers. At least, they are the least liked. But everytime I view 3 Idiots, I find myself developing a soft corner for these two idiots. To me, they're the real reflection of the average Indian student and not Rancho.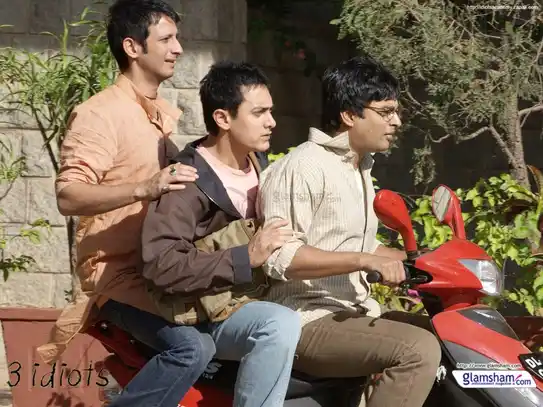 Three hours in, you realise 3 Idiots is not your regular Bollywood college drama. It's an entertaining, emotional roller coaster that exposes India's flawed education system.
Vinod Chopra Films/ Reliance BIG Pictures
Rancho, who swiftly became one of India's favourite Hindi cinema protagonists due to his insistence on acquiring knowledge and education to understand and satiate curiosity, persistently mocks Chatur's tendency to rote-learn things. But most of us in school and college were less like Rancho and more like Chatur. We didn't really have a chance to channelise our inner Rancho, if there ever was one.
I mugged up my way through high school. As an Indian student, you don't know any other way. You might get marks for understanding the concept, but you probably could do even better if your answer sheet is a photocopy of your textbook. Rote learning is a trap you eventually fall into to arrive at your dream destination – topping the class. At least that's what I believed during my school days. The compulsion to produce answers verbatim killed my zest for my favourite subject, geography. In some cases, the length of the answers was considered a bigger sign of intelligence than their content.
The truth, however embarrassing, is that I did see myself in Chatur as I can imagine, many others did. If anything, I've been told that Chatur's habit to blindly rote learning information, theories, and equations is consistent with the raw deal handed to many students in our academic institutions.
To me, Raju Rastogi and Chatur Ramalingam are the real reflection of the average Indian student and not Rancho.
There's a scene in the beginning of the film where a professor asks Rancho for the definition of a machine. In reply, Rancho provides a simplistic explanation in everyday Hinglish which fails to impress the professor, as his answer is closer to the meaning of a machine, not its definition. Chatur's response to that question is in fact the textbook definition of a machine. I get that the purported aim of the scene was to highlight the loopholes in our education system, and by every account, Chatur does represent the ignorance that even the most brilliant students find themselves trapped in. But it also misses a crucial fact: The solution to our education system's brokenness isn't Rancho's nonchalance either. His answer, for instance, misses out several crucial terms, such as lever, pulley and fulcrum, which by default makes it incomplete. And though Rancho's method to the madness seems more attractive, it might not always be practical to emulate.
In fact, the problem with idolising Rancho is illustrated even better if you view the film through the eyes of Raju, who hailed from a middle-class family with a hand-to-mouth existence that is depending on him to get a job as soon as possible. But his time at ICE consistently sees his scores sag, despite his interest in engineering. According to Rancho, Raju's low grades stem from a fear of the unknown. It's a trait most Indian students can identify with, given the perennial ambiguity of the job market and the inhuman pressure to triumph over the education system when all the odds are stacked against them.
Like Raju, I belonged to a middle-class family. There was little time to follow my passion. When I entered college, I had one main dream – to bag a good job as soon as possible. And my education was the first step to get there. Nobody had your back, you had to look out for yourself.
In that sense, Raju questioning Rancho's idea of completing a depressed senior student's project while their plates were already full isn't a sign of fear. It's just an act of practicality. That's the response my peers or I would have. Drowned under assignments, how many of us have gone out of our way to help students who can't cope up? Student life is not as romantic as 3 Idiots makes it out to be. IRL, the Ranchos – brilliant, impulsive, and living life on their own terms – are few and far between. Most of just succumb to the ways of the system. Most of us don't have the luxury to enjoy the education we receive.
In my student years, I have met a lot of Rajus and Chaturs. I'm still waiting to meet a Rancho.
Priyanka Agarwal writes from life and bizarre events. One of them inspired her first book, PiKu & ViRu, about a fan–actor relationship. She's currently waiting for just that kind of gold to mine her next book from.