Like Veer and Zaara's love story, the movie's music stands the test of time. "Main Yahaan Hoon" became the ballad for an entire generation. Fifteen years on, it makes us pine for eternal love even when we find ourselves in an age where regularly liking someone's Instagram posts is the zenith of commitment.
In many ways, Veer-Zaara was a movie about hoarders, especially the creepy ones who held onto their ex's trinket years after the break-up. I kid. Veer-Zaara, at least for the '90s kids, is an evergreen love story. And in the last fifteen years, it has acquired a reputation for being one of Hindi cinema's most tragic and persevering tales of romance – a testament to the sheer stubbornness of love.
Yash Chopra's film of kindred spirits charts the romance between Veer Pratap Singh (Shah Rukh Khan), an Indian Air Force pilot, and Zaara Hayat Khan (Preity Zinta), the daughter of a powerful Pakistani politician who is rescued by Veer after her bus falls into a gorge in India. The two fall in love with Punjab's endless sarson ke khet serving as a backdrop, but are tragically separated due to cross-border politics that sees Veer being wrongly imprisoned in a Pakistan jail for 22 years.
The movie is an antidote to all lovers who are separated because of circumstances beyond their control. And this soulful romance is only elevated by the remastered Madan Mohan compositions that are the heart of the film's music. Veer-Zaara's soundtrack, composed almost entirely by the late Madan Mohan, was recorded back in the '60s. The legendary composer's tunes might easily have never seen the light of day had his son, Sanjeev Kohli, not found them in his cupboard. On Yash Chopra's insistence, Kohli revised his father's tunes to complement the movie and this further enhanced the old-world charm of Veer-Zaara. Each melody from the album is proof that there existed a time when Bollywood could borrow from its showmen of the past, without robbing them of their artistic integrity.
On most days today, switching on the radio is like preparing yourself for an assault on your eardrums by some Tanishk Bagchi remix.  He has gone after timeless ditties like "Chamma Chamma" and "Tu Cheez Badi Hai Mast Mast". Sadly, his creations don't seem to come from a place of adulation for the yesteryear, but are more like a haphazard attempt of serving old wine in a plastic bottle.  In an age of shoddy remixes then, the music of Veer-Zaara seems even more profound.
Sure, it isn't as on the nose as say 'Emotional Atyachar' and 'Tere Bin", but that is exactly what makes Veer-Zaara's album so unique.
Versatility is something the soundtrack has in spades. The cassette's A-side consisted of classics like "Aisa Des Hai Mera" and "Lodhi" that truly encapsulate Veer's Punjabi son-of-the-soil aesthetic. Everything from Amitabh Bachchan's sparkling chemistry with Hema Malini (the two play Veer's aunt and uncle), and SRK shaking a leg in his sparkling white-and-blue sherwani is accentuated further by the music. Unforgettable is Lata Mangeshkar and Sonu Nigam's heart-wrenching love ballad, "Do Pal", which to this day, remains a staple on every break-up playlist. Sure, it isn't as on the nose as say 'Emotional Atyachar' and 'Tere Bin", but that is exactly what makes Veer-Zaara's album so unique. The entire soundtrack is existential and way ahead of its time, as if it is designed for millennials always in the throes of some crisis.
I first listened to the songs when I was 12 and I should've known that I'd grow up to be a hopeless romantic right then.
More than a decade later, "Tere Liye" and "Main Yahaan Hoon" remain my favourite songs of all time. The former, the film's title track, ranks right up there with "Nadaan Parindey" when it comes to anthems for lovers who aren't destined to be together. The video still gives me chills and watching an old and withered Veer and Zaara with flashbacks to their younger versions can leave many a grown man in tears. "Main Yahaan Hoon" leaves you with thinking of your first big love even today. When it played on TV, I remember my teenage girl friends shrieking and swooning over a dishy Shah Rukh carrying the gorgeous Preity Zinta in his arms. This was King Khan at the peak of his romantic-hero persona. Every teenage boy wanted to have his charm, every girl wanted to be swept off her feet like Zinta.
I remember a bunch of us lined up at Planet M when the album released, some to buy the audio cassette, others to simply listen to the music for free. I would play the songs on loop, until the tape unspooled. And I wasn't the only one addicted to the film's music. The album was a love anthem for an entire generation.
Perhaps, that's why those like me who grew up idolising Veer and Zaara's love story are more often than not disappointed when it comes to matters of the heart today: It gives us unreasonable expectations of eternal love in an age where regularly liking someone's Instagram posts is the zenith of commitment. The music stands the test of time and it will remain eternal – as long as nobody allows Mr Bagchi near a Veer-Zaara audio CD.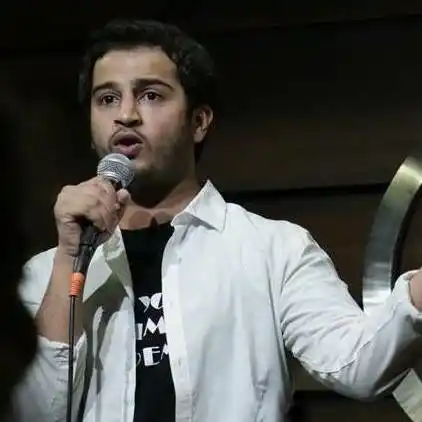 Masking anxiety with humour. Living with his dog, cat, and mediocrity. Creating content aur life se kaafi discontent. Tweeting as @juvenile_jack.