A pregnant elephant succumbed to human cruelty after locals fed her a pineapple stuffed with crackers, killing both the mother and her unborn child in the waters of the Velliyar River in Kerala's Malappuram. Worse, the maximum punishment her murderers can get might only be seven years in jail.
The "human" lockdown over the last two months was being lauded as a time for nature to heal and reclaim its space. The air quality had improved, Ganga water had been deemed fit to drink and the endangered Gangetic dolphins had found their way back to Kolkata ghats. However, the brutal murder of a pregnant elephant in Kerala is a reminder that humans have long forgotten what humanity is.
The wild elephant succumbed to human cruelty after locals allegedly fed her a pineapple stuffed with crackers, killing both the mother and her unborn child in the waters of the Velliyar River in Kerala's Malappuram on May 27.
Pregnant elephant fed pineapple stuffed with crackers in Kerala. She died standing in river https://t.co/xb9Mc3sqER pic.twitter.com/WYvDwmqY6G

— NDTV (@ndtv) June 2, 2020
According to Principal Chief Conservator of Forests (Wildlife) and Chief Wildlife Warden Surendrakumar, the incident took place close to Silent Valley in Attappadi. Speaking about the intention of the cruel act, he told PTI, "It is certain that she was offered the pineapple filled with crackers to eliminate her."
The murder came to light when Mohan Krishnan, a forest officer who was part of the Rapid Response Team to rescue the pregnant elephant, narrated the horrific details of the gruesome incident on his Facebook page. "She trusted everyone. When the pineapple she ate exploded, she must have been shocked not thinking about herself, but about the child she was going to give birth to in 18 to 20 months," he wrote in Malayalam.
The wild elephant is said to have stepped out of the forest to the nearby village in search of food. Unfortunately, the cracker-laden fruit exploded in her mouth, and the powerful explosion injured both her tongue and mouth. However, even as she ran around the village in "searing pain", she didn't bring harm to a single human. "This is why I said, she is full of goodness," Krishnan stated in his emotional note.
With the wound in her lower jaw exposed, the elephant walked up to the Velliyar River, her mouth and trunk in water likely to bring some relief to her injuries. She continued to stand in the water until she breathed her last at 4 pm.
The horrible act of inhumanity has caused great uproar amongst citizens.
IFS officer Praveen Kaswan expressed his shock and disappointment.
Speechless. How cruel to feed a pregnant elephant a pineapple with firecrackers. Can anything justify such cruelty. Elephants are such wise and social animals, they are symbol of hope and wisdom all over world. https://t.co/c1hePb1flX

— Parveen Kaswan, IFS (@ParveenKaswan) June 2, 2020
The incident has highlighted just how vile humans can be.
The pregnant #Elephant fed crackers by human beings makes my belief stronger that we human are the biggest devil on earth. hope the perpetrators of the 2 murders are caught and the mother and child is served justice. At times I wonder where do people get such horrible ideas from?

— Singh Varun (@singhvarun) June 3, 2020
A highly deplorable act! Such atrocious act makes me wonder how low can humans fall. A pregnant #Elephant was fed a pineapple laden with crackers which exploded inside her mouth fatally injuring her. I hope that the guilty are punished severely. @moefcc https://t.co/pUANHg8pIC pic.twitter.com/0CBECQJPhF

— Parimal Nathwani (@mpparimal) June 3, 2020
Some Bollywood stars also raised their voices condemning the perpetrators. Anushka Sharma shared the news on her Instagram story, asking for "harsher laws against animal cruelty" be put in place.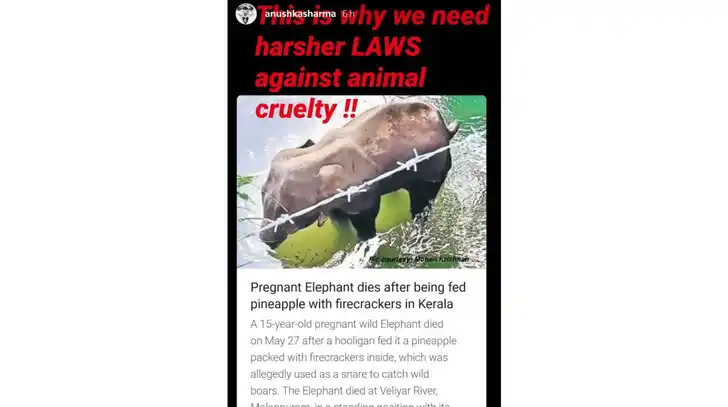 Randeep Hooda shared a similar opinion.
An act most #inhumane to will fully feed a pineapple full of fire crackers to friendly wild pregnant #Elephant is just unacceptable..strict action should be taken against the culprits sir 🙏🏽@vijayanpinarayi @CMOKerala @PrakashJavdekar @moefcc @ntca_india https://t.co/ittFQogkQV

— Randeep Hooda (@RandeepHooda) June 2, 2020
Calling it a heartbreaking incident, Shraddha Kapoor too called for stricter laws against animal abuse.
How??????
How can something like this happen???
Do people not have hearts???
My heart has shattered and broken…
The perpetrators need to be punished in the STRICTEST way. @PetaIndia @CMOKerala pic.twitter.com/697VQXYvmb

— Shraddha (@ShraddhaKapoor) June 2, 2020
Perhaps for all our heinous crimes and greed we deserve the pandemic.
We deserve the virus.https://t.co/HjZsiGL0Jd

— Srijit Mukherji (@srijitspeaketh) June 2, 2020
Multiple netizens channelised their anger into art.