Some of Mumbai's many stories reside with its stray dogs. A new picture book on our canine compatriots, gloriously named Tamatar or Periappa or Whiskey, tells us a lot about the city's streeties – and a fair bit about us.
When Kalu wasn't gallivanting around town, he had only one job. He would lie sprawled outside Regal Cinema, contending for moviegoers' attention, jonesing for tourists' affection. An alpha male pariah dog with a penchant for travelling, Kalu was a handsome pooch blessed with a lustrous coat of black olive fur and a strapping physique. If Kalu could speak, he'd point to the funny scar on his face and probably say, "Kalu main hoon, mark idhar hai."
"I'm not ill," a little tag on his neck read, "I am being treated by Welfare of Stray Dogs (WSD)." Nothing was the matter with Kalu except for some weird bout of feverish twitching that would instantly worry concerned passersby for his life. The neurological issue would be cured by WSD's care, but not before Kalu had exploited his condition to cosy up to kind strangers – to joyously sip bowls of chilled milk sourced from the nearby Barista, or even rock a funky tee that a generous foreign tourist once relieved himself of to drape Kalu with.
"Kalu knew how to charm people. He was a terrific actor," says Abodh Aras, the most affable CEO of WSD and an unmatched authority on stories and eccentricities of strays in Mumbai. Aras has recently collaborated on a picture book for young readers, My City, My Dogs, along with photographer Hashim Badani and artist Sumedha Sah. The illustrated volume, published by Pratham Books, profiles nine of Mumbai's many lovable street dogs, of which Kalu is one.
If dogs were on Instagram, Kalu would have been that annoying dude who posts pretentious selfies captioned #wanderlust and #TakeMeBack. So customary were the itinerant Kalu's commutes that his routine disappearances wouldn't bother his human acquaintances.
But one day, about four years ago, Kalu didn't return to Regal for a week.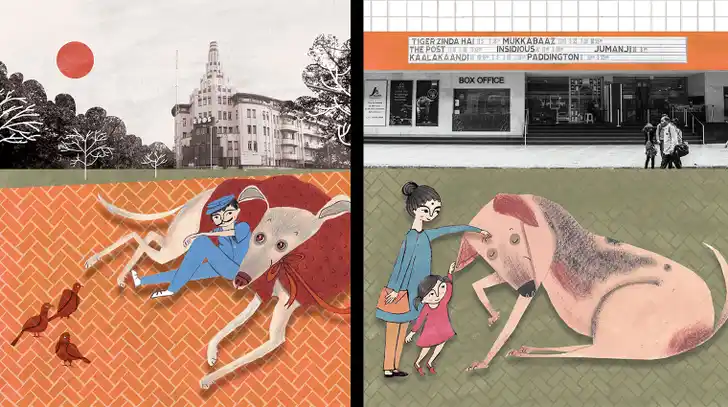 © Pratham Books / Sumedha Sah
A staff member from the Alibag ferry service at the Gateway who knew Kalu, phoned Aras: "I saw him at Bhayander station." Aras couldn't believe this but still sent a volunteer to check. Nobody could wrap their head around how Kalu had landed at Bhayander, 42 km from his territory, until a volunteer filled them in on Kalu's impulsive ticketless getaway. "Kalu had once followed the volunteer's dad from their Churchgate residence into the train," Aras recalls. "To evade the canine escort, that gentleman thereafter would sneak out of the building." Since strays can't be carried in Mumbai locals, the volunteer eventually had to shell out a hefty Bhayander-Churchgate cab fare to get Kalu back to Regal.
When it came to whipping up fat cab tabs, Raju was the worst. The news of his sighting inside a local train was first broken by an anxious lady on board, worried for his well-being. A WSD volunteer brought Raju back from Borivali — by cab — only to be summoned by another caller a few days later. Raju had wandered off again into the suburbs, and the night ended with another long cab ride. "The reason they need to be brought back is because dogs are territorial and won't take kindly to new dogs encroaching upon their space," Aras tells me.
"In a boxed-in Mumbai slum, the parents, children, four dogs and even more cats co-exist – and coexist well."
In fact, the incredible navigational compass of Mumbai's strays would put many Google Maps-thumbing, directionally challenged humans to shame. Right after being treated at WSD's kennel in Mahalaxmi, an old dog jumped out of the taxi's rolled down window and vanished into the night. "The following day, that dog was spotted right back where she belonged, near Worli's Campa Cola Compound," Aras recalls. Another dog at Nariman Point would apparently run 18 km with a runner during his practice, only to meet him the following day again at Nariman Point.
While the streets are filled with Kalus and Aishwaryas and Deepikas and Shahrukhs, stray nomenclature throws open a treasure chest of anecdotes. "Abhi Aaya" was named thus because whenever his street-vendor caretaker would look for him, he'd always be there. Tamatar, a grey stray near Mahalaxmi's Shobha Restaurant, loves chomping on a ripe tomato in one go. A Chembur dog, Shengu, kicks back with the shingdanawala (peanut vendor) and snoozes under his thela. My favourite though, is Periappa, who has a fondness for idlis and dosas served at Matunga's South Indian joints.
Once, looking for a stray named Whisky, Aras landed at the Colaba dive, Gokul. "Whiskey kahaan hai?" The waiter at the door replied with a straight face, "Whiskey andar hai, lekin hum baahar nahi laa saktey. Aap ko andar aana padega." It then dawned on Aras that he was talking about the drink, not the dog.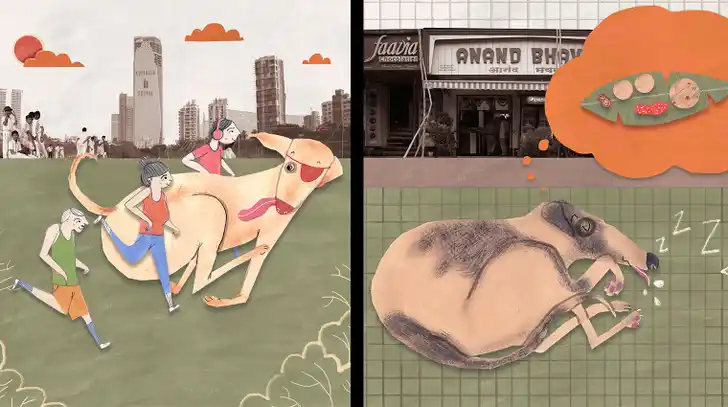 © Pratham Books / Sumedha Sah
The shoeshine-man Arvind, who lived outside Eros Theatre, had half a dozen dogs; their names were all inspired from the movies running in the theatre behind him: Pretty (Woman), James (Bond), S Raj (presumably a character from a South Indian matinee movie), and the youngest dogs, Hrithik and Ameesha, from Kaho Naa… Pyaar Hai, the Hindi film that marked the cinema hall's transition from screening Hollywood films to Bollywood.
Outside the old American Consulate in Breach Candy, a local cop on duty, in petty retaliation, had named a short stray dog "Bush" after the then American President who had famously declared his cat's name to be India. When Bush passed away at the ripe canine age of 18, the emotional outpouring to a Facebook post dedicated to him showed just how pampered and loved he was by hundreds of area residents, including a grateful teenager who confessed to routinely emptying his lunchbox to Bush so that his mother would think he ate it.
But this kind of gratitude and affection is hardly surprising. In his 22 years of working with Mumbai's strays, Aras finds that nearly 90 per cent of the streeties are tended to by somebody or the other. "In a boxed-in Mumbai slum, the parents, children, four dogs and even more cats co-exist – and coexist well," he says. "They have very little but still share whatever they can with the strays." We might not deserve dogs, but the city sure as hell needs them.
My City, My Dogs, is published by Pratham Books and can be viewed here.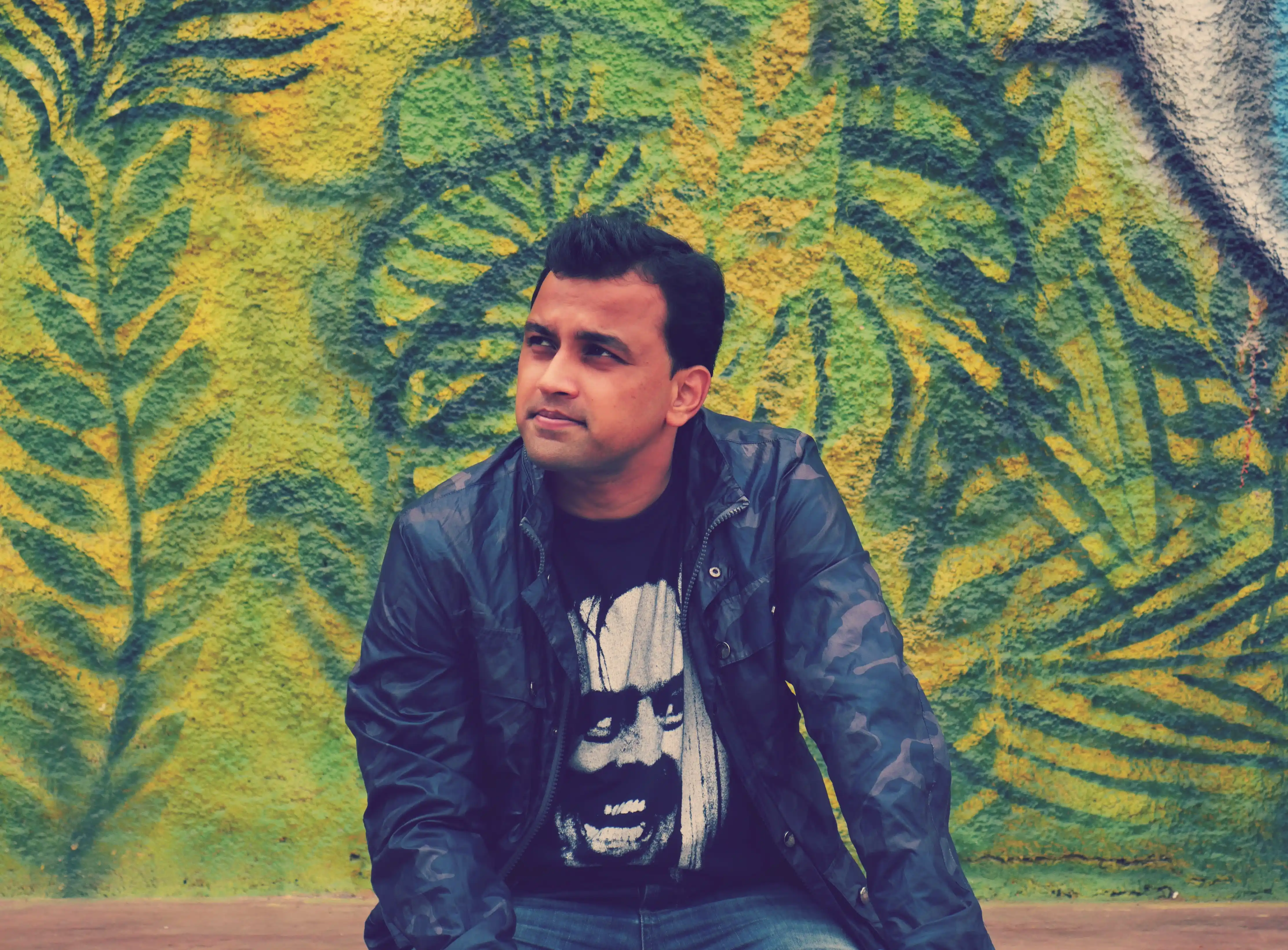 Anand is a writer, journalist, vegan, filmmaker, traveller, photographer, musician, YouTuber, take-it-easy-er. He loves films as much as Federer's cross-court backhand. Most of all, he loves to tell a good story well.